Midday Stock Roundup
Wednesday, September 3, 2014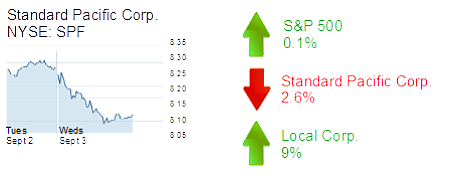 The S&P 500 rose 0.1% to 2,004.20 in midday trading Wednesday.
The Dow Jones Industrial Average rose 0.3% to 17,115.61, and the Nasdaq fell 0.3% to 4,584.01.
The yield on a 10-year Treasury bond was flat at 2.42%.
The price of gold was up 0.33% to $1,269.20.
HOMEBUILDING
OC homebuilders were down on fears that July's housing starts gain can't be sustained and national homebuilder Horsham, Penn.-based Toll Brothers Inc.'s guidance on pricing and full-year home sales.
Irvine-based Standard Pacific Corp. was down 2.6% to $8.11 and a market cap of $2.3 billion. Irvine-based Tri Pointe Homes Inc. was down 1.2% to $14.63 and a market cap of $2.4 billion. Newport Beach-based William Lyon Homes Inc. was down 2.1% to $25 and a market cap of $781 million. Aliso Viejo-based New Home Company Inc. was down 2.6% to $13.75 and a market cap of $227.4 million.
TECHNOLOGY
Irvine-based Local Corp. was up 9% to $1.83 and a market cap of $40 million. The online search and advertising company said it had reached a positive outcome in a patent infringement dispute with San Jose, Calif.-based Fry's Electronics Inc.
APPAREL
Foothill Ranch-based Wet Seal Inc. was down 22% to $0.82 and a market cap of $69.3 million on the retailer's plan to sell $18.5 million in stock and third-quarter guidance below analysts' expectations.