Midday Stock Roundup
Friday, October 31, 2014
Share this article: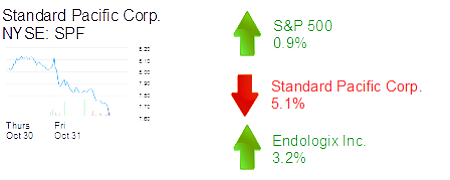 Major stock indices were strongly higher in midday trading.
The S&P 500 topped 2,000, up 0.9% to 2,012.48. The Dow Jones Industrial Average hit an intraday record in early trading and was up 0.95% to 17,358.76 at midday. The Nasdaq rose 1.26% to 4,623.43.
The yield on a 10-year Treasury bond rose 1.17% to 2.33%.
The price of gold declined 2.24% to 1,171.70.
HOMEBUILDING
Irvine-based homebuilder Standard Pacific Corp. dropped 5.1% to $7.57 and a market cap of $2.1 billion after it missed analyst estimates on revenue and income. It reported revenue of $603.8 million which, while 18% higher on a 15% increase in average home price to $483,000 missed analysts' expectations of $626.4 million. Income declined slightly to $56.6 million while analysts had expected about $59 million.
HEALTHCARE
Irvine-based device maker Endologix Inc. was up 3.2% to $11.60 and a market cap of $776.7 million after meeting analyst expectations. It lost $13.9 million in its third quarter, or 13 cents a share, in line with Wall Street projections. Revenue was $37.2 million, slightly more than the consensus of $37 million.