Opus Misses Estimates on Q3 Profit
Tuesday, October 28, 2014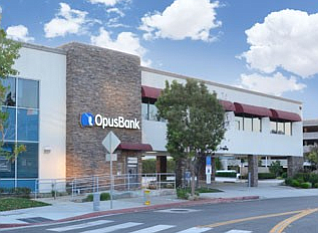 Irvine-based Opus Bank's third-quarter net income fell short of Wall Street estimates.
The bank on Monday reported $7.7 million, or 24 cents a share, in quarterly profit, against an average analyst estimate of about $10.6 million, or 33 cents a share.
Last year's third-quarter net income was $109.4 million, due in large part to tax benefits.
Shares of Opus fell about 7% Monday and are trading about flat Tuesday morning.
Opus reported about $33.7 million in net interest income in the third quarter, up nearly 8% from the same period last year.
It had $3.9 million in noninterest income, versus $1 million a year ago.
Opus is one of the largest banks with headquarters in Orange County. It had $4.7 billion in total assets at the end of September, up 36% year-over-year.
Net loans held for investment reached $3.7 billion, compared with $2.6 billion a year earlier.
The bank originated about $1.2 billion worth of loans through the first nine months of this year, versus $801 million during the same period last year.
Total deposits as of Sept. 30 were $3.5 billion, up from $2.5 billion.