OC Restaurants Sign on to Local Jobsite
Tuesday, October 28, 2014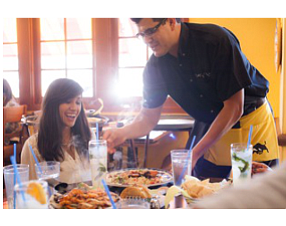 Two Orange County-based restaurant chains have signed on to find employees from a new online employment service, the company behind the website said.
Nekter Juice Bar Inc. in Santa Ana and Real Mex Restaurants in Cypress are the latest companies to seek new employees through Mission Viejo-based Jobrivet.
"Our core demographic is young adults," with a focus on restaurants and retail in Southern California, said Jobrivet co-founder Todd Peets,
Jobs range from entry-level to management, he said.
The company said its data from employers show turnover rates in restaurant and retail are 60% to 200%.
Other OC-based restaurants that use the site include locations of Wienerschnitzel and Z Pizza. Wienerschnitzel is owned by Irvine-based Galardi Group Inc.; Z Pizza International is based in Newport Beach.
Companies pay to post on the site, where job-seekers build LinkedIn-style profiles. Companies choose people they want to interview, rather than the site auto-forwarding hundreds of applications for every position.
Peets and co-founder Robert Knowles started Jobrivet in November 2013 and launched the website this June.