RSM Pizza Chain Expands in California
Thursday, October 23, 2014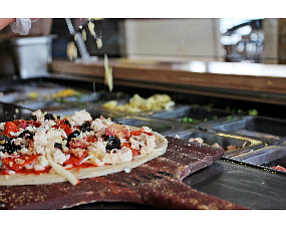 Rancho Santa Margarita-based Pieology Pizzeria plans seven new locations in Northern and Central California by the end of 2014.
The new sites will stretch from Fresno and Gilroy up to Sacramento and Santa Rosa and bring the in-state total beyond its southern California base to 11.
"We are looking forward to sharing the Pieology experience with pizza lovers," said President Bob Baker in a statement.
The company is one of several fast casual "build-your-own" pizza chains to ramp up expansion this year.
It brought on Baker in June and vice president of marketing Debbie Porter in August.
Baker is a former KFC Corp. and Yum Brands executive who also helped grow Salt Lake City-based Café Rio Mexican Grill from six to 70 locations. Louisville-based Yum also owns Taco Bell Corp. in Irvine.
Porter helped market Los Angeles-based Veggie Grill and True Food Kitchen parent, Fox Restaurant Concepts in Scottsdale, Ariz.
Pieology will have about 50 locations in California, Colorado, Oregon, Texas, Utah and Ohio after the new sites open, with a third company-owned and the rest franchises. It plans about 100 sites systemwide by the end of next year.