JWA Passenger Counts Up
Thursday, October 23, 2014
Share this article: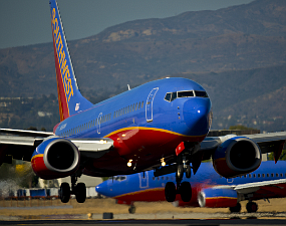 John Wayne Airport reported a 4.3% increase in its number of passengers in September compared with the same month last year.
The gain came as overall commercial flights ticked down 4.4% year-over-year from 3,350 in September 2013 to 3,200 last month.
The increase in passenger counts and dip in flights indicates that airlines are flying closer to capacity.
Last month the airport saw about 761,000 passengers compared with about 729,000 in September 2013.
Airport spokesperson Jenny Wedge said the increase was mostly due to domestic traffic. International travel was down in ongoing fallout from the end of Mexico service by Interjet this summer. Southwest Airlines now is the sole operator of flights to Mexico from JWA.
International passenger counts were down 45% in September from about 27,800 last year to 15,200 this year, and down 24% year-to-date—to 223,000 this year from about 292,000 in the same period in 2013
The three most active airlines at John Wayne by number of passengers in September were Southwest, with about 316,000 passengers, United (112,000) and American (107,000).