Quarterly Profit Up for CalFirst Bancorp
Wednesday, October 22, 2014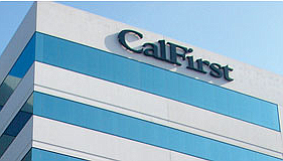 Irvine-based California First National Bancorp reported net income of $2.5 million in the September quarter, an increase of about 34% from the same time a year earlier.
It said the profit growth was due primarily to an increase in noninterest income and "also reflects the first quarterly increase in total interest income in three years."
Net interest income reached $4.4 million, up about 4% from the year-earlier period.
Noninterest income totaled $2.5 million, up 80%.
California First National had about $618 million in total assets as of Sept. 30, up nearly 7% from a year earlier. It ranked No. 8 on the most recent Business Journal list of the largest banks with headquarters in Orange County.
Chief Executive Patrick Paddon said the bank had $485 million worth of net investment in leases and loans at the end of the quarter, up 20% year-over-year.
It also has a backlog of about $141 million in approved leases and loan commitments, up 36%.
Deposits totaled $383.6 million, up about 6%.