Midday Stock Roundup
Tuesday, October 21, 2014
Share this article: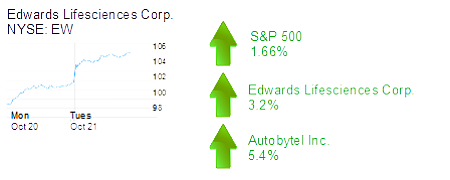 Major stock indices were up at midday following strong quarterly reports from tech companies.
The S&P 500 rose 1.66% to 1,935.61.
The Dow Jones Industrial Average rose 1.13% to 16,584.34 and the Nasdaq rose 2% to 4,402.99.
The yield on a 10-year Treasury bond was up 0.87% to 2.20%.
The price of gold was up 0.55% to $1,251.50.
HEALTHCARE
Irvine based Edwards Lifesciences Corp. was up for a second day, with a 3.2% hike to $105.18 and a market cap of $11.2 billion in advance of what's expected to be positive earnings news on Thursday. The medical device maker has issued third quarter guidance calling for profits of 66 to 72 cents per share.
Irvine-based drug maker Allergan Inc. was up 3.5% to $185.42 and a market cap of $55.1 billion. Citigroup Inc. reiterated a "buy" rating on the stock with a price target of $210. Allergan's hostile suitor Quebec-based Valeant Pharmaceuticals International Inc. was up 4.8% to $130.71 and a market cap of $41.7 billion.
SERVICES
Irvine-based Autobytel Inc. is up 5.4% to $9.21 and a market cap of $83.1 million. An investor disclosed a 4.7% stake in the automobile sales information company and called on it to explore a sale.