Another Double-Digit Sales Gain for Vans
Tuesday, October 21, 2014
Share this article: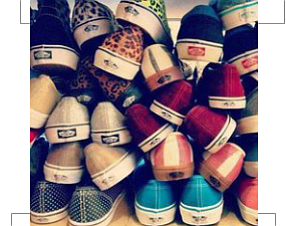 Vans Inc.'s revenue rose 12% in the third quarter, a 20th consecutive reporting period with double-digit gains for the Cypress-based unit of VF Corp. in Greensboro, N.C.
"That's five years, or half the time this brand has been in V.F.'s portfolio," said Steve Rendle, Vans' senior vice president for the Americas.
VF doesn't provide sales totals for its individual brands, which also include Timberland, The North Face, Kipling and Wrangler. It reported $3.5 billion in companywide revenue for the third quarter, up 7% from $3.29 billion it posted during a same period a year ago.
VF posted $470 million in profits for the period, up 8% from a year earlier.
Vans showed "strong growth across all regions," according to the company.
Revenue in the Americas was "up at a high single-digit rate, impacted by a shift in timing of shipments; fourth quarter revenues are expected to grow at a high-teen percentage rate."
Skate shoe and apparel brand's revenue in Europe was "up at a mid-teen percentage rate in the quarter, and by nearly 40% in the Asia Pacific region. Global direct-to-consumer revenues for the Vans brand were up 18 % in the quarter."
VF's shares were up 4.4% to $66.6 on Tuesday to a market value of about $28.7 billion.