Kia Signs LeBron James as New Brand Ambassador
Wednesday, October 15, 2014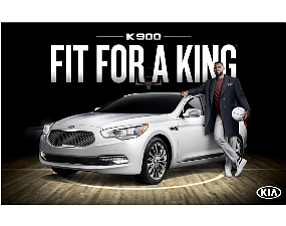 Kia Motors America selected Cleveland Cavaliers' forward LeBron James as its K900 Luxury Ambassador.
The all-star basketball player will appear in the Irvine-based automaker's "Fit for a King" marketing campaign, set to hit the airwaves at the beginning of the 2014-15 NBA season on Oct. 28.
Terms of the multi-year partnership were not disclosed. Industry sources pegged it at "multi-million" dollars per year.
James expressed his affinity for the luxury sedan in August via his Instagram account, when he posted a photo of the vehicle with a caption: "Rolling around in my K900. Love this car!"
"I was a Kia K900 driver and fan before we decided to become partners, so I'm really excited to be Kia's first-ever luxury ambassador," James said in a statement. "This partnership is about the power of great style and performance. Kia and the K900 are out to challenge conventional wisdom and show people how to think differently, and I can relate to that. For me, a partnership has to be authentic and real to who I am, and that's what makes this one so special."
The basketball star is already promoting the brand—he rolled in a black K900 in a recent McDonald Corp. TV commercial, which also features brands like Target Corp. and Hasbro's Rich Uncle Pennybags from the Monopoly game.
"We were honored to learn that one of today's most influential athletes and tastemakers recognized something different was going on at Kia and wanted to check out our new flagship sedan," said Tim Chaney, Kia's vice president of marketing communications, in a statement.
The automaker's roster of brand ambassadors also includes Los Angeles Clippers' Blake Griffin, tennis player Rafael Nadal, and U.S. Women's Open champion Michelle Wie.
"There is no doubting the athletic abilities of Mr. James, which he has turned into a lucrative payoff with the top level of sponsor endorsements last year of any NBA player," said Eric Ibara, senior analyst at Irvine-based Kelley Blue Book. "This may be what Kia needs as the K900, while a very fine vehicle, is off to a slow start. With Mr. James, Kia has assembled a noteworthy group of athletes whose success, Kia hopes, rubs off on its brand. As Kia grows globally, it is likely just a matter of time before a star soccer player joins the Kia team."
Kia spent $403 million on media placements in 2013 and $235.6 million in the first half of this year according to New York-based Kantar Media.