Irvine Big Data Firm Raises $60M
Monday, October 6, 2014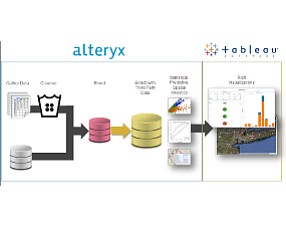 Irvine-based Alteryx Inc., a fast-growing data analytics software company, has raised $60 million in a venture round.
It plans to use the proceeds to meet booming customer demand, expand distribution channels and add workers in marketing, sales, customer service and finance.
The investment round was led by New York-based Insight Venture Partners, with backing from previous investors Toba Capital in Irvine and Palo Alto-based SAP Ventures.
The company has raised about $78 million to date.
Alteryx's customer base has increased by 200% in the last year, according to the company, serving more 600 companies in the retail, restaurant, financial, real estate and telecom sectors, among others.
Customers pay a subscription for its analytics software to integrate data, monetize content, forecast sales, map out retail expansion plans, and compare sales and product placement, among other features.
"We humanize big data," Chief Executive Dean Stoecker told the Business Journal last year after the company raised $12 million in a second financing round. "There needs to be a place to store this big data, and you have to have an analytics platform that allows business users to get it."
Customer have included information services company Experian PLC, which has its North American headquarters in Irvine, Lake Forest-based Mexican-style fast-food chain Del Taco Holdings Inc., Walmart, Best Buy and Verizon.
Alteryx in April opened its first international office in London and has broadened its international channel in 40 countries.
It was founded in 1997 as SRC LLC and took the name of its core product in 2010, a common move in the software industry.
Marlborough. Mass.-based tech industry watcher Wikibon estimated Alteryx's annual sales at $48 million last year, up 33% from 2012.