Midday Stock Roundup
Friday, October 3, 2014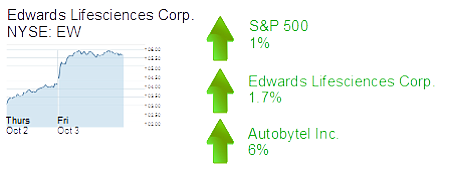 Stock indices were up strongly at midday on a positive jobs report.
The S&P 500 rose 1% to 1,966.06, the Dow Jones Industrial Average rose 1.1% to 16,987.98, and the Nasdaq rose 1.1% to 4,477.11.
The yield on a 10-year Treasury bond rose 0.6% to 2.45%.
The price of gold fell 1.9% to $1,195.10.
HEALTHCARE
Irvine-based heart device maker Edwards Lifesciences Corp. was up 1.7% to $106.06 and an $11.2 billion market cap. The company has received a BBB+ credit rating by Morningstar and three analyst upgrades to a "buy" rating in the past three weeks, with target prices of $110 to $120.
SERVICES
Irvine-based Autobytel Inc. was up 6% to $9.65 and an $87.1 million market cap. Zacks upgraded it from "neutral" to "outperform," and the stock was named a takeover target by a hedge fund manager.