Irvine Bank Scores Ducks Deal
Wednesday, October 1, 2014
Share this article: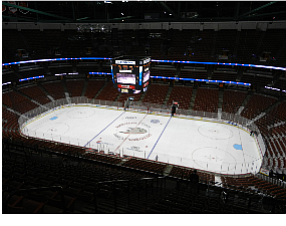 Pacific Premier Bank in Irvine said it became the official business bank of the Anaheim Ducks professional hockey team and Honda Center in Anaheim.
The "reciprocal business agreement" expands Pacific's current role as the banker of The Rinks' seven ice skating rink locations to include the Ducks and the Honda Center, said Steve Gardner, Pacific Premier's president and chief executive.
As part of the deal, terms of which were undisclosed, Anaheim Ducks practice jerseys will feature a Pacific Premier Bank patch and Honda Center's soon-to-be-renovated Club Level will be named after the bank.
"This partnership gives us the opportunity to promote our brand and wide array of financial services," Gardner said.
Pacific Premier has 13 total branches in Encinitas, Huntington Beach, Irvine, Los Alamitos, Newport Beach, Palm Desert, Palm Springs, San Bernardino, San Diego and Seal Beach. Its holding company, Pacific Premier Bancorp Inc., had $1.9 billion in assets on June 30.
Honda Center is owned by the city of Anaheim and managed by Anaheim Arena Management LLC. Henry Samueli, founder of Irvine-based chipmaker Broadcom Corp., owns the Ducks and The Rinks locations and Anaheim Arena Management.