Midday Stock Roundup
Friday, November 28, 2014
Share this article: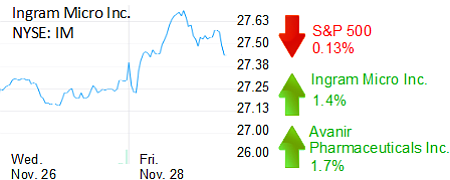 The S&P 500 was down 0.13% to 2,070.07 in midday trading.
The Dow Jones Industrial Average was up 0.31% at 17,882.77, and the Nasdaq rose 0.4% to 4,806.38.
The yield on a 10-year Treasury bond declined 1.39% to 2.2%.
The price of gold was down 1.51% to $1,179.40.
TECHNOLOGY
Santa Ana-based Ingram Micro Inc. was up 1.4% on news of its acquisition of Paris-based Anovo, which provides logistics and repair services for technology products. Terms of the deal weren't announced. The companies said Anovo is expected to bring about $300 million in annual revenue. Ingram Micro, the world's biggest distributor of computers, software and other technology products, had a recent market capitalization of $4.3 billion.
HEALTHCARE
Avanir Pharmaceuticals Inc. continued up from its Wednesday run despite a rejection by the U.S. Food and Drug Administration of its migraine drug device. Avanir shares closed up 4% on Wednesday and are up 1.7% to a market capitalization of $2.9 billion. The Aliso Viejo-based company responded to the FDA decision by saying it will conduct additional human testing next year.