UCI Develops Faster Blood Test
Thursday, November 13, 2014
Share this article: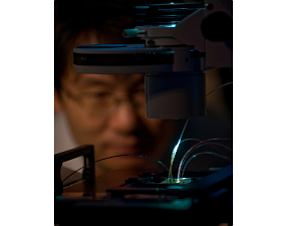 University of California-Irvine researchers have developed a new bloodstream infection test technology to speed up accurate diagnosis of ailments including Ebola, the school said.
The new Integrated Comprehensive Droplet Digital Detection or "IC 3D" technology can detect bacteria in milliliters of blood with no cell culture needed.
IC 3D converts blood samples into billions of small droplets, which minimizes interference by other blood components and makes it easier to find droplets with bacterial markers for disease, UCI said.
Assistant Professor of Pharmaceutical Sciences Weian Zhao led the research.
"It may have many applications in detecting extremely low-abundance biomarkers in other areas, such as cancers, HIV and, most notably, Ebola," Zhao said in a statement.
A UCI spinoff called Velox Biosystems is now further developing the IC 3D technology, the school said.