It's Official: Broadcom to Great Park
Thursday, November 13, 2014
Share this article: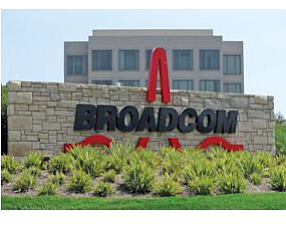 Irvine-based chipmaker Broadcom Corp. made its long-rumored move to the Great Park Neighborhoods official, agreeing to buy land to design and build a new 1.1 million square foot corporate headquarters, the company said.
It bought the land through a subsidiary from Heritage Fields El Toro LLC; the campus could accommodate an expansion over time to up to 2 million square feet.
Great Park Neighborhoods is a mixed-use, master-planned community at the former Marine Corps Air Station El Toro being developed by Emile Haddad's FivePoint Communities.
A price was not disclosed. City officials said late last month that a deal for the land was imminent.
The Business Journal reported in July that the Irvine Planning Commission approved plans for about 79 acres on the southern edge of the former base that call for eight buildings spread over the 2 million square feet.
The buildings could run as large as 455,000 square feet, and would be build in phases beginning early next year for occupancy in 2017. Most would be four to six stories high.
Broadcom currently leases about 920,000 square feet from Newport Beach-based Irvine Company in the University Research Park, near the University of California-Irvine and San Joaquin Hills (73) Toll Road.
The chipmaker employs about 2,500 workers in Irvine. Plans for the new campus include 7,200 parking spaces with "5,600 to 6,000" for employee parking needs.
Broadcom's President and Chief Executive Scott McGregor said owning the land gives the company financial flexibility and building its own campus lets the company "design an environment for our workforce where we can prioritize collaboration and sustainability."