Southwest Seeks JWA Flight to Puerto Vallarta
Monday, November 10, 2014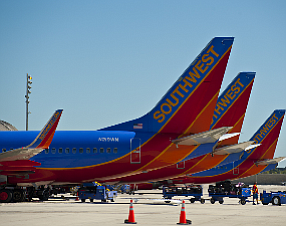 John Wayne Airport's largest airline has filed an application with the U.S. Department of Transportation to add service to Puerto Vallarta beginning June 7, 2015.
Southwest Airlines would fly a single daily nonstop, according to the company.
"We think this will be another popular leisure destination for Orange County travelers," said John Wayne Airport spokesperson Jenny Wedge.
The flight request shows, "our strong partnership with leaders at John Wayne Orange County Airport in developing new travel and business," said Brad Hawkins, a Southwest spokesperson.
Southwest has been adding international destinations system-wide this year. JWA to Puerto Vallarta will be the airline's ninth such route, the company said.
The carrier earlier this month completed its JWA changeover from AirTran to Southwest planes to two destinations in Mexico.