El Pollo Loco Insiders to Sell 6M Shares
Monday, November 10, 2014
Share this article: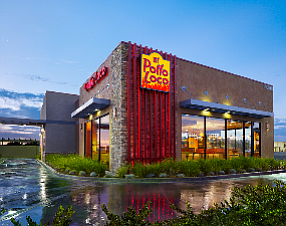 El Pollo Loco insiders plan to sell 6 million shares, according to a U.S. Securities and Exchange Commission filing yesterday.
Costa Mesa-based El Pollo Loco Holdings Inc., the parent company of the fast food chicken chain, gave no date for the sale in the filing, which came four months after it raised $100 million in an initial public offering, but a "lock-up" period that bars insiders from selling shares after an initial public offering ends Jan. 21, 2015.
Majority owner Trimaran Pollo Partners LLC currently holds 28.6 million shares or 77% of the company.
El Pollo Loco Chief Executive Steve Sather holds 1.5 million shares or about 4% of the company.
The company will have about 37 million shares outstanding after the offering.
The filing was disclosed after markets closed Thursday. El Pollo Loco shares were down 5.7% after hours to $34.50 and a market cap of $1.35 billion but had recovered by midday Tuesday to $35.22 and a market cap of $1.3 billion
The stock has more than doubled since El Pollo Loco went public priced at $15 per share.