El Pollo Loco Sales Up, Revs In Line
Thursday, November 6, 2014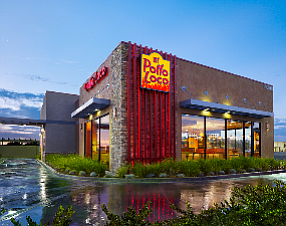 Costa Mesa-based El Pollo Loco Holdings Inc. reported higher same-store sales and revenues in line with analysts' expectations.
The fast-food chain had third-quarter net income of $5 million, or 12 cents per share and revenue was $86.6 million compared with Wall Street estimates of $84.9 million. Both numbers were higher year-over-year and in line with expectations.
Sales grew 6.4% year-to-year at company-owned restaurants and by 9.1% at franchised locations.
Shares were mixed Thursday before and after markets closed. The stock climbed 2.6% anticipating the results and declined 2.1% after the company reported. In midday trading Friday shares were up about 3% after starting the day down 7%.
El Pollo Loco traded at a recent market cap of $1.42 billion.