Midday Stock Roundup
Friday, May 30, 2014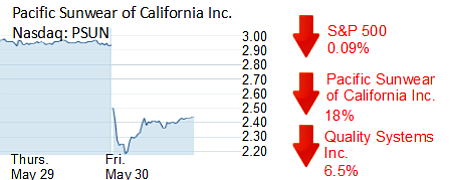 The S&P 500 fell 0.09% to 1,918.42 in afternoon trading Friday.
The Dow Jones Industrial Average was down 0.19% to 16,666.38, and the Nasdaq also was off 0.36% to 4,232.78.
The yield on a 10-year Treasury bond was up 0.98% to 2.47%.
The price of gold slipped 0.96% to $1,245.00.
APPAREL
Shares of Pacific Sunwear of California Inc. plunged by more than 18% following its report on first-quarter financials, including a loss of $10.4 million versus a loss of $24.1 million a year earlier. The Anaheim-based action-sports retailer, which had a recent market capitalization of $165 million, said it expects second-quarter revenue to come in between $200 million and $210 million, against analyst expectations of $216 million. It said it projects a second-quarter loss between $1.4 million and $5.5 million, versus analyst expectations of net income of about $1.4 million.
HEALTHCARE
Irvine-based healthcare software company Quality Systems Inc. was down 6.5%, following its fiscal fourth-quarter profit that fell below Wall Street's expectations. Quality Systems had $5.2 million in earnings for the March quarter, versus the anticipated $9.2 million. It had a recent market capitalization of $926 million.