Midday Stock Roundup
Friday, May 23, 2014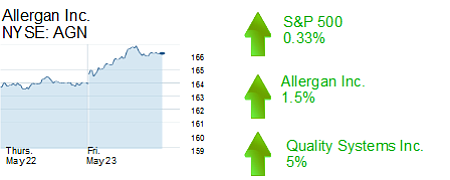 The S&P 500 rose 0.33% to 1,898.81 in afternoon trading Friday.
The Dow Jones Industrial Average was up 0.30% to 16,591.96, while the Nasdaq was up 0.48% to 4,174.23.
The yield on a 10-year Treasury bond fell 0.82% to 2.53%.
The price of gold was off 0.27% to $1,291.50 per ounce.
HEALTHCARE
Irvine-based drug maker Allergan Inc. was up about 1.5 percent to $166.30 for a market value of $49.48 billion. JPMorgan released results from a survey of investors that showed 60 percent said Valeant Pharmaceuticals International Inc.'s offer for Allergan should be in the range of $53.8 billion to $59.5 billion. Valeant's current offer is valued at around $47 billion and it plans to raise its bid next week.
TECHNOLOGY
Irvine-based healthcare software maker Quality Systems Inc. was up about 5% to $16.96 for a market value of $1.02 billion. RBC Capital recently raised its rating on the company's stock from "sector perform" to "outperform."
MANUFACTURING
Thinly traded Bridgford Foods Corp. of Anaheim was off about 10% to $8.85 on low volume. The food maker had a recent market value of $80.78 million.