Irvine Company to Buy Chicago Skyscraper for $850M
Tuesday, May 20, 2014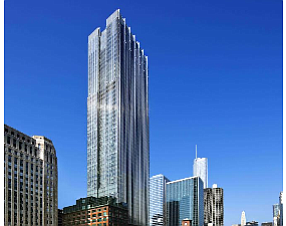 The Irvine Company has struck a deal to buy a Chicago skyscraper for $850 million.
The Newport Beach-based real estate owner and developer is under contract to buy 300 North LaSalle, a 60-story tower.
The deal works out to a price of about $652 per square foot for the 1.3 million square foot skyscraper, and appears to be the priciest office buy an Orange County real estate company has ever made.
The building is currently owned by an affiliate of Newport Beach-based KBS Realty Advisors, which paid about $655 million for the tower in 2010.
Irvine Co. chairman Donald Bren is the brother of KBS president Peter Bren.
Irvine Company officials said the company is buying the tower "as a long-term investment that is complementary to its primary California real estate portfolio." The company owns other offices in Chicago.