Women-Owned Businesses Wanted for Annual List
Monday, May 19, 2014
Share this article: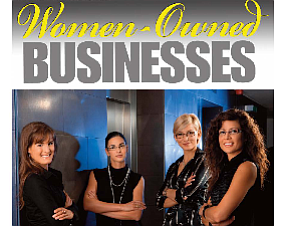 Is your company women-owned? Then the Business Journal wants to hear from you.
Our annual list of women-owned businesses is the definitive source of information on companies that make up a vitally important part of Orange County's economy.
We're looking for Orange County-based companies that are at least 51% women-owned.
Publicly traded companies and subsidiaries won't be considered. Nor will locally owned offices of national services firms.
The list will be ranked by revenue for the 12 months ended December 31, 2013. It will be the centerpiece of a special report in our July 7 issue.
Companies with more than $5 million in annual revenue will be considered.
What's in it for you?
Bragging rights, for one. Your company could be ranked on our growing list and be part of a network of remarkable women in various industries.
The list also places your company in front of customers, bankers, vendors, peers or even potential investors.
The Business Journal has an online form for companies that want to be considered for this list.
Go to http://goo.gl/KRXOVk to nominate your company or another.
Contact Research Director Dana Truong at (949) 833-8373, ext. 247, or at truong@ocbj.com, with any questions.