OC Unemployment Rate Drops to 5%
Friday, May 16, 2014
Share this article: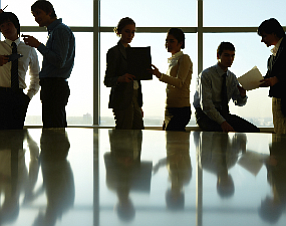 The jobless rate in Orange County fell to 5% last month, when employers here added 3,900 jobs.
April's unemployment rate compared with 5.8% in March and 5.9% a year earlier.
The county now has 1,475,700 jobs, according to the state Employment Development Department.
Leisure and hospitality businesses added 3,700 jobs over the month as they "ramped up employment for the summer tourist season," the agency said. The sector has a total of 190,900 jobs, about 2% higher than the year-earlier tally.
The education and health services sector continued hiring, adding 1,300 jobs in April, following a similar gain in March. It has grown about 3% over the year to a total of 188,600 jobs.
The trade, transportation and utilities sector added 500 jobs, after cutting 1,500 the month before. The total number of jobs, 251,500, reflects a less-than-1% growth over the past year. The sector accounts for about 17% of OC's total work force.
Professional and business services firms, which make up the county's largest business sector, added 200 jobs last month, following an increase of 1,600 jobs the month earlier. The total for the sector came to 271,000 jobs, up about 3% year-over-year.
The construction and government sectors each saw an increase of 200 jobs. Construction firms now have 83,300 jobs overall and reflects an 11% over the past year, the largest percentage gain among the business sectors.
Government jobs totaled 152,600, about flat from a year earlier.
Manufacturing was the sole sector that saw a decrease in the number of jobs last month. It cut 2,400, for a total of 155,700. Last month's drop followed a month-earlier addition of 600 jobs. The sector's job numbers are down year-over-year, by about 1%.
California's unemployment rate inched down to 7.3% in April, versus 8.4% in March and 8.7% a year earlier.
Nationwide, the rate was 5.9%, down from 6.8% a month earlier and 7.1% a year earlier.