Coca-Cola Buys Stake in Irvine Firm
Monday, May 5, 2014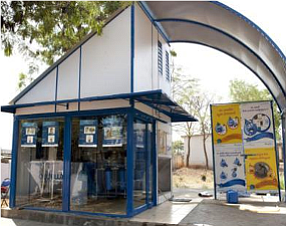 Atlanta-based Coca-Cola Co. has acquired a minority stake in WaterHealth International in Irvine.
WaterHealth specializes in small-scale water purification systems, with more than 500 serving about 5 million people in neighborhoods, schools or other communities in five countries.
The two companies have kicked off a Child With Water program, which aims to deliver 132 million gallons of drinking water a year to 1 million school children in developing countries by the end of 2015.
The water will be delivered through water purification systems installed, operated and maintained by WaterHealth. The first installations will begin this month.
"Partnering with a visionary company like Coca-Cola enables us to have a greater impact and further our mission to provide clean water to the millions who have spent a lifetime waiting for it," Sanjay Bhatnagar, WaterHealth's president and chief executive, said in a news release.