Buena Park Mall Partners with South Korea Entertainment Company
Friday, March 28, 2014
Share this article: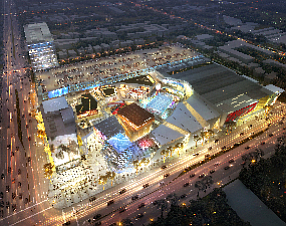 Officials at The Source retail and entertainment project currently under construction in Buena Park said they've struck a deal with a South Korea-based record label and talent agency that will bring recording studios and 2,000-seat concert venue.
The Source, which is being developed by Lynwood-based M&D Properties, said it has partnered with YG Entertainment on a "strategic and financial" partnership.
The deal marks YG Entertainment's first entry into North America.
Its project at the source will be called YG Land and provide an avenue to promote the company's artists, which include recent pop sensation Psy and Big Bang, according to a news release.
The attraction will include the 2,000-seat venue along with recording and training rooms.
The Source, which totals 450,000 square feet of retail, will hold a topping off event April 3.