Member of Bridgford Family Steps Down From Foodmaker's Board
Tuesday, March 25, 2014
Share this article: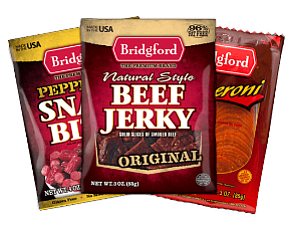 Bridgford Foods Corp. said that Allan Bridgford, Jr., a grandson of founder Hugh Bridgford, resigned as a member of its board of directors.
A search for a new board member will begin "as soon as practicable."
Allan Bridgford is a former president of Bridgford Foods of Illinois. His most recent role is consultant to the company, which he will continue.
Bridgford Foods is a publicly traded company with market capitalization of about $92.5 million. It manufactures meat products and frozen bread dough. It has a processing plant in Anaheim, with other facilities in Chicago, Dallas and Statesville, N.C.
Bridgford recently had a total of about 500 employees, according to its website. The company's products, including buttermilk biscuits, garlic Parmesan bread and sliced Italian salami, are sold in 50 states and abroad, including Canada.
Members of the Bridgford family own more than 82% of the common stock, according to the company, and occupy a number of high-level executive positions.