Facebook to Pay $2B for Irvine Startup
Tuesday, March 25, 2014
Share this article: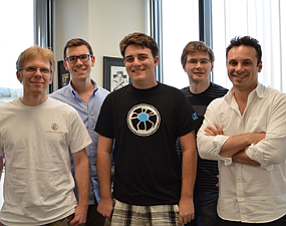 Irvine-based start-up Oculus VR Inc. has agreed to a $2 billion sale to Facebook Inc.
The deal for the virtual headset maker includes $400 million cash and 23.1 million shares of common stock valued at $1.6 billion from by the Menlo Park-based social networking company.
The agreement also provides the potential for an additional $300 million in cash and stock based on certain benchmarks.
The transaction is expected to close by July 1.
The company was founded by Palmer Luckey, a former engineer at University of Southern California's Institute for Creative Technologies in the Mixed Reality lab, where he researched and developed virtual reality systems and head-mounted displays.
Oculus raised $91 million last year in two funding rounds, with lead backers including venture capital firm Andreessen Horowitz in Menlo Park, and Spark Capital and Matrix Partners, both based in Boston.
Oculus has taken the technology world by storm since 2012, when it first demonstrated its groundbreaking product, which immerses users in an interactive 3D world. It has sold more than 75,000 units of early versions of the device at about $300 apiece.
The head set carries the potential for a wide range of applications, including training simulations and education.
Facebook said it plans to use the company's technology beyond gaming, into communications, media and entertainment, education and other areas.

"Oculus has the chance to create the most social platform ever, and change the way we work, play and communicate," said Facebook founder and Chief Executive Mark Zuckerberg.
Facebook shares are down nearly 1% in afterhours trading to a market value of about $165.45 billion.