Chapman Names Eventual Doti Replacement
Tuesday, March 25, 2014
Share this article: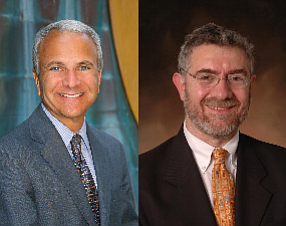 Chapman University's Board of Trustees named Chancellor Daniele Struppa as "presidential designate" and successor to President Jim Doti, effective upon Doti's eventual retirement.
"While this action will not have any immediate impact, it paves the way for me to work more closely with Daniele on presidential matters," Doti, who has held the post since 1991, said in the message he sent Monday to the university's students, faculty and staff members. "Many of the decisions I face have long-term consequences for our university. As our presidential designate, Daniele will need to be as excited and enthusiastic as I about actions we take that will have impacts far into the future. Such support will help ensure that our long-run strategies and initiatives are based on a common vision, and have the continuity of executive leadership to carry out that vision."
The announcement followed a Chapman Faculty Senate vote Friday also approving Struppa as a successor to Doti, 67. The trustees' vote made the designation final.
Struppa, 58, joined Chapman as chancellor in 2006, a position that placed him as "second-in-command at the university" and "in charge of the faculty and academic initiatives." He also teaches a math class and continues academic research "focusing on Fourier analysis and its applications to a variety of problems, including the algebraic analysis of systems of differential equations, signal processing and pattern recognition."
Struppa worked at George Mason University in Virginia as dean of the College of Arts and Sciences prior to his assignment at Chapman.
He has a degree in mathematics from the University of Milan, Italy, and a doctorate in mathematics from the University of Maryland, College Park.