OC Dealers' New-Vehicle Sales Up 7.8%
Thursday, March 20, 2014
Share this article: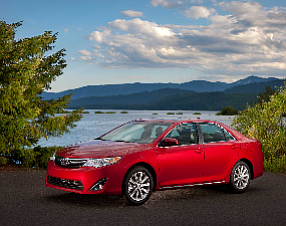 Orange County auto dealers sold 11,594 new vehicles in February, a 7.8% increase from a year earlier.
The figures, provided by Newport Beach-based Orange County Automobile Dealers Association, are based on 6,995 new car and 4,599 light truck registrations reported in the county.
Japan-based brands accounted for nearly half of February sales—5,754—an 11.2% year-over-year increase.
Toyota Motor Corp. led all automakers locally with 1,945 vehicles sold in OC, a 4.1 % uptick.
Honda Motor Co. accounted for 1,510 registrations, an 18.1% increase from a same period year earlier, while Subaru sold 250 vehicles, a 72.4% year-over-year increase.
Mazda Motor Corp., which has its North American operations in Irvine, saw a 11.9% increase in number of vehicles sold here in October, for a total of 368.
Cypress-based Mitsubishi Motors North American Inc. had 89 sales locally, relatively flat from a year earlier.
Domestic brands posted a bigger year-over-year increase than their Japanese competitors—13.5%—but sold fewer vehicles—2,476.
Chrysler Group LLC's Ram was up 59% with 110 vehicles sold locally. Dodge sold 147 vehicles, a 3.3% dip over the same period last year. Jeep sold 341 vehicles, a 44.5% uptick. Ford Motor Co. sold 1,070 vehicles for a 14.9% increase
Mercedes sold 632 vehicles in OC, a 2.9% dip from February of last year, followed by BMW at 502 vehicles, which had a 6.7% drop. Audi accounted for 223 vehicles, down 8.6%, while Volvo sold 29 vehicles, a 29.6% dip. Italy-based Fiat posted strong sales gains—58.8% for a total of 54 vehicles sold here.
Indian brand Jaguar Cars had a good month as well with 48 cars sold in OC. It led the OC dealer pack with percent change—118.2%.
The locally based U.S. operations of two South Korean brands posted mixed sales results in February.
Fountain Valley-based Hyundai Motor America Inc. sold 658 vehicles, down 11.3% year-over-year.
Kia Motors America Inc. in Irvine sold 503 vehicles through OC dealers, a 9.6% increase from a year ago.
OC's auto dealers collectively have sold 26,656 vehicles during the first two months of 2014, up 7.1% from the same period last year.