Obama Accepts UCI Commencement Invitation
Thursday, March 20, 2014
Share this article: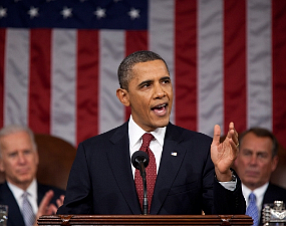 University of California-Irvine Chancellor Michael Drake said President Barack Obama has accepted the school's invitation to deliver the commencement address at its 2014 graduation ceremony on June 14, at Angel Stadium of Anaheim.
"We will be commemorating the 50th anniversary of the groundbreaking and dedication ceremonies of our campus," Drake said. We are proud of the progress we have made during our first half century, and are looking forward to even greater achievements in the years to come."
Drake wrote to Obama in April 2013, outlining the accomplishments of the "relatively young campus." Students and staff followed in his footsteps by collecting signatures on approximately 10,000 postcards from "Anteaters of all stripes." A delegation delivered the postcards and a student-produced video invitation to the White House Office of Public Engagement earlier this month.
School-based ceremonies, in which graduates are individually recognized, will follow on June 15 and 16, on the UCI campus.