PacSun Shares Up as Turnaround Continues
Wednesday, March 19, 2014
Share this article: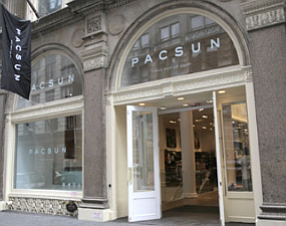 Investors sent shares of Anaheim-based Pacific Sunwear of California Inc. up on Wednesday, a day after the retailer reported continued improvement in its business.
The retailer operates a chain of 617 stores that sell clothing for men and women inspired by action sports, music and fashion.
Pacific Sunwear shares were up about 6% in afternoon trading Wednesday to a market value of $217.42 million.
The company reported an adjusted loss of $11.8 million for the fourth quarter ended Feb. 1.
Analysts had expected a loss of $13.19 million.
Pacific Sunwear's net sales for the February quarter were $218.6 million, beating consensus estimates of $213.48 million.
Same-store sales for the February quarter rose 2%.
Pacific Sunwear ended its fiscal 2013 year with net sales up about 2% to $797.8 million. The company narrowed its fiscal 2013 loss to $23.1 million, compared to a $33 million loss in the year-ago period.
"We continue to be encouraged by our positive momentum within a challenging retail environment throughout the year, marked by eight straight quarters of positive comparable store sales, sustained gross margins and reduced operating costs, all contributing to a significant improvement in our operating performance compared to fiscal 2012," Pacific Sunwear Chief Executive Gary Schoenfeld said in a statement.
The retailer said it expects an adjusted loss in the range of $8.3 million to $11.8 million for the current quarter. Analysts expect a loss of $8.3 million.
The company's net sales forecast for the current quarter of $169 million to $174 million beat the analyst estimate of $168.08 million.