Slapfish Strikes New Franchise Deal
Monday, March 17, 2014
Share this article: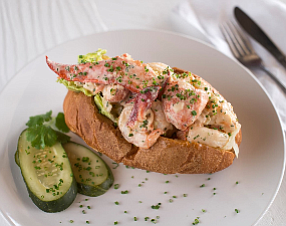 Huntington Beach-based fast-casual seafood restaurant concept Slapfish inked a new franchise agreement for Southern California.
The deal, with Abdelmuti Restaurant Group, is for six restaurants to be opened over the next three years.
The first of the new units is planned this year in Newport Beach. Abdelmuti Restaurant also is considering San Clemente or Irvine for its second location, along with Costa Mesa, Santa Monica and Manhattan Beach for additional Slapfish restaurants.
Slapfish was launched in 2009 by Andrew Gruel and Jethro Naude, first as a food truck concept. Their brick-and-mortar Huntington Beach restaurant opened in April 2012. A second company-owned restaurant is planned for April in Laguna Beach.
The latest franchise agreement follows the company's announcement late last year that it signed a 75-unit deal with franchisee Magnolia Enterprise for the Middle East, with the first of those restaurants set to open there in June.