Busch, Caspino Form New Law Firm
Friday, March 14, 2014
Share this article: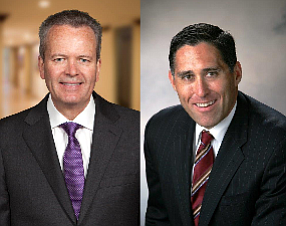 Orange County attorneys Tim Busch and Michael Caspino have formed Busch & Caspino, a new law firm with a focus on business, estate and tax planning; corporate real estate; business litigation as well as religious organizations and canon law.
Busch will serve as chairman of the new firm.
Caspino has been named chief executive, and will oversee all day-to-day activities. He comes to the partnership from Brady, Vorwerck, Ryder and Caspino in Orange, which has announced it will dissolve its practice.
"We are thrilled to have Mike join our practice as his legal skill set complements ours, and he shares our vision for a renewed and expanded firm," said Busch, founding partner of the Busch Firm in Irvine, which will be absorbed by the new venture. "With our new team members in place, we are well positioned to accelerate growth and continue to provide effective leadership and counsel to all our clients."
Busch is the founder of hotel development and management firm Pacific Hospitality Group. He's also a co-founder of JSerra Catholic High School and St. Anne School.
Caspino is on the board of directors for Birth Choice Pregnancy Centers and Serra Catholic School.
Ten attorneys and staff joined him at the new firm, giving Busch & Caspino a total of 32 employees. Key clients now include the JSerra High School, Marriott International and the Archdiocese of San Francisco. The firm will work from the Busch Firm's longstanding offices in Irvine.