Midday Stock Roundup
Wednesday, March 5, 2014
Share this article: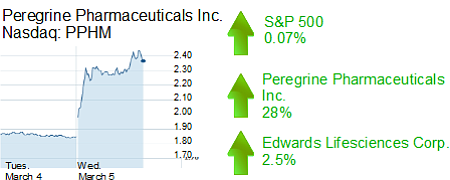 The S&P 500 rose 0.07% to 1,875.21 in afternoon trading Wednesday.
The Dow Jones Industrial Average was off 0.18% to 16,366.89, while the Nasdaq was up 0.14% to 4,358.25.
The yield on a 10-year Treasury bond fell 0.07% to 2.69%.
The price of gold rose 0.24% to $1,341.10 per ounce.
Tustin-based drug developer Peregrine Pharmaceuticals Inc. was up about 28% to $2.44 for a market value of $391.18 million. The company said its bavituximab drug candidate for the treatment of lung cancer is in a Phase III trial. The company also said three studies are set to be presented this month at a symposium that will highlight the potential in phosphatidylserine (PS)-targeting antibodies, a type of molecule that makes up bavituximab.
Irvine-based heart valve maker Edwards Lifesciences Corp. was up about 2.5% to $72.08 for a market value of $7.73 billion. Edwards is up 6.7% so far this year.
Aliso Viejo-based drug maker Avanir Pharmaceuticals Inc. was up about 12% to $4.83 for a market value of $735.59 million. Avanir's stock has risen nearly 34% since the start of the year.