Midday Stock Roundup
Tuesday, March 4, 2014
Share this article: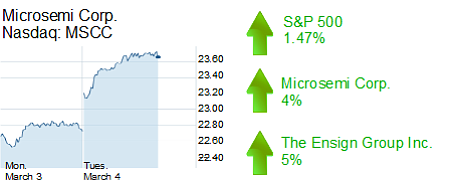 The S&P 500 was up 1.47% to 1,872.82 in afternoon trading Tuesday.
The Dow Jones Industrial Average rose 1.39% to 16,392.99, while the Nasdaq rose 1.77% to 4,353.17.
The yield on a 10-year Treasury bond was up 2.72% to 2.68%.
The price of gold fell 0.94% to $1,337.60 per ounce.
TECHNOLOGY
Aliso Viejo-based chipmaker Microsemi Corp. was up about 4% to $23.68 for a market value of $2.24 billion. Microsemi and Taiwan-based distributor WT Microelectronics Co. Ltd. said they are working together on a design center for Microsemi's field-programmable gate array products, a type of chip that can be programmed by customers after it's made.
Newport Beach-based technology service provider DynTek Inc., which is traded over the counter, surged 50% to $15 for a market value of $31.88 million.
HEALTHCARE
Mission Viejo-based The Ensign Group Inc. rose about 5% to $41.85, after the nursing home operator said it bought the 196-bed Horizon Post-Acute and Rehabilitation Center in Arizona. Ensign had a recent market value of $927.52 million.
SERVICES
Irvine professional services firm Resources Connection Inc. was up about 7% to $14.65 for a market value of $571.95 million.