Midday Stock Roundup
Monday, March 3, 2014
Share this article: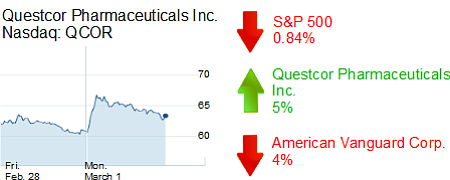 The S&P 500 fell 0.84% to 1,843.84 in afternoon trading Monday.
The Dow Jones Industrial Average was down 1.09% to 16,143.05, while the Nasdaq was off 0.98% to 4,265.91.
The yield on a 10-year Treasury bond slipped 1.88% to 2.61%.
The price of gold rose 2.23% to $1,351.10 per ounce.
HEALTHCARE
Anaheim-based drug maker Questcor Pharmaceuticals Inc. rose about 5% to $63.71 for a market value of $3.74 billion.
The company said in a Monday filing with the Securities and Exchange Commission that it has been the target of a "short attack" or "bear raid" and went on to say in its filing that Acthar is "not yet fully understood." Short seller Citron Research alleged in a report last week that Questcor's core Acthar H.P. Gel drug was in danger of being pulled from the market.
MANUFACTURING
Newport Beach-based agriculture products maker American Vanguard Corp. was off about 4% to $21.34 for a market value of $612.71 million. TheStreet Ratings lowered its rating on the company's stock from "buy" to "hold." American Vanguard last week reported a decline in its fourth-quarter net sales and income from the year-ago period.

CLEAN TECHNOLOGY
Shares of Newport Beach-based Clean Energy Fuels Corp. were up about 5% to $8.81 for a market value of $786.85 million. The company's stock closed down about 7% on Friday, a day after the company reported fourth-quarter revenue and adjusted profit below consensus estimates.
APPAREL
Huntington Beach-based Quiksilver Inc. was down about 3% to $7.55 for a market value of $1.28 billion. The apparel maker and retailer is expected to report results for its fiscal first quarter on Thursday.