UCI Medical to Make Own Power
Monday, June 23, 2014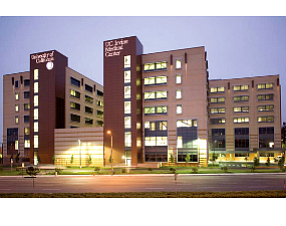 The University of California-Irvine Medical Center in Orange will produce 30% of its own power and save up to $10 million in just under 20 years, by an agreement with a Danbury, Conn. company.
The 1.4-megawatt fuel cell plant will also produce 200 tons of cooling for its center's campus and help it meet California cap-and-trade requirements.
The medical center said it expects to save between $4 million and $10 million over 19 years, after the power plant is ready.
UCI Professor and Director of the National Fuel Cell Research Center Scott Samuelson said the plant would improve power generation and reliability while reducing carbon emissions.
Compared to standard electricity, the new plant is expected to produce 28 fewer tons of nitrogen oxide, 64 fewer tons of sulfur dioxide and 7,000 fewer tons of carbon dioxide.
UCI says it has no capital investment because it will buy the power under a long-term deal with FuelCell Energy Inc.
FuelCell Energy will install, operate and maintain the plant. It plans to have it operational by early 2015.