Irvine Co. Is Making Space for an EvoNexus Incubator in the O.C.
Monday, June 23, 2014
Share this article: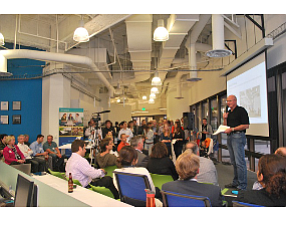 The EvoNexus technology business incubator, which cut its teeth in San Diego, is expanding into Orange County.
EvoNexus has facilities in downtown San Diego and in the University Towne Center neighborhood, in buildings owned by the Irvine Co.
Irvine Co. plans to prepare space for EvoNexus in one of its building in the city of Irvine late this summer, and plans to open it early in the fourth quarter, said an Irvine Co. spokesman.
"This is part of our support for technology across California and stems from the success we have seen partnering with EvoNexus in San Diego," said a statement from the real estate company. "EvoNexus' incubators in UTC and downtown have graduated 32 companies to date, including several that have taken nearly 50,000 square feet of office space with us as independent companies."
Companies selected for the EvoNexus incubators stay in the space with no strings attached. Only one in 10 applicants is selected for incubator space.
EvoNexus plans to admit companies to its Orange County facility by Nov. 1. "We expect a class of around six to eight startups from a variety of technology sectors," said Michele Yoshioka, director of programs and operations with EvoNexus and CommNexus.
Rory Moore is CEO of CommNexus and EvoNexus.
Graves is a reporter for the San Diego Business Journal, a sister publication of the Orange County Business Journal.