DIY Pizza Chain Names President
Tuesday, June 17, 2014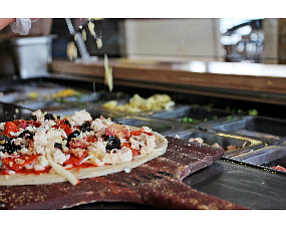 Rancho Santa Margarita-based Pieology Pizzeria named Bob Baker company president.
Baker brings 25 years of operations experience to the three-year-old chain, which currently has restaurants in California, Colorado and Oregon, a new location in Texas, and plans to enter Minnesota and Ohio.
Its Orange County locations are in the Irvine Spectrum and Fullerton. A third is slated to open in Tustin Marketplace in July.
Pieology is a make-your-own pizza concept. Customers choose from five sauces and 30 toppings to make a pizza which is then cooked and served in two minutes, the company said.
Baker was most recently president and CFO at Salt Lake City-based Café Rio Mexican Grill, where he led an expansion from six locations in 2005 to 70 in 2013.
He has also worked at KFC Corp. and its parent Yum Brands Inc. in Louisville, Ky. Yum also owns Irvine-based Taco Bell Corp.