Wyndham Now in Disneyland Market
Originally published June 16, 2014 at 11:42 a.m., updated June 17, 2014 at 10:43 a.m.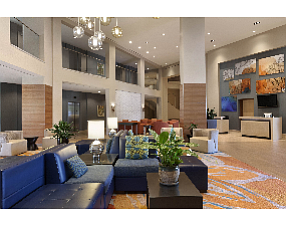 Parsippany, New Jersey-based Wyndham Hotel Group opened the renovated Wyndham Anaheim Garden Grove Hotel on Harbor Blvd. in Garden Grove, the company said.
It is the brand's first location near Disneyland Resort.
The hotel was formerly the Crowne Plaza Anaheim.
The hotel group added Southern California hotels last year in San Diego and Santa Monica to target high-traffic and tourist areas.
Irvine-based OHI Resort Hotels, LLC owns the hotel. The manager is Irvine-based Pacific Hospitality Group, which operates five properties in Orange County include Balboa Bay Resort, Balboa Bay Club, two Doubletree by Hilton hotels and the under-construction Paséa hotel in Huntington Beach.
The hotel has 376 rooms and 36,000 square feet of function space.