Midday Stock Roundup
Thursday, June 12, 2014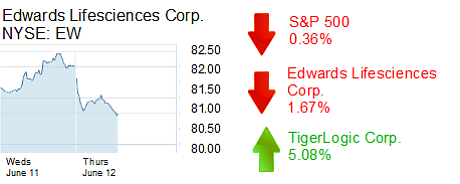 The S&P 500 declined 0.36% to 1,936.87 in midday trading Thursday.
The Dow Jones Industrial Average was down 0.35% to 16,785.18, while the Nasdaq was down 0.31% to 4,318.60.
The yield on a 10-year Treasury bond fell 0.34% to 2.63%.
The price of gold was up 0.48% to $1,267.20.
HEALTHCARE
Irvine-based device maker Edwards Lifesciences Corp. was down 1.84% to $80.99. At the William Blair & Co. stock conference Thursday morning, the company signaled fiscal year 2014 earnings per share of about $3.10, below consensus estimates of $3.17. For the same period, it sees gross profit margin of about 73% and free cash flow of $325 million to $425 million. It had a midday market cap of about $8.54 billion.
Irvine-based dental laser maker Biolase Inc. was down 2.82% to $2.07. The company said Thursday morning it had extended the maturity date of a loan and security agreement with Comerica Bank to Aug. 1 and incurred a $30,000 fee payable to the bank, half of which will be waived if Biolase pays the debt by that date. The company's market cap at midday was $77.9 million.
TECHNOLOGY
Irvine-based software infrastructure maker TigerLogic Corp. rose 5.08% to $1.47 on heavy volume and a market cap of about $44 million. By midday, it had traded 75,000 shares, compared to a 90-day average of 15,000.