QLogic's Desai Dies at 68
Tuesday, June 10, 2014
Share this article: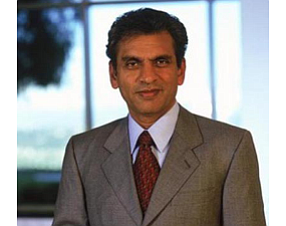 Longtime QLogic Corp. Executive Chairman HK Desai died suddenly Sunday night of cardiac arrest, the Aliso Viejo-based networking gear maker announced Monday.
Desai, who had been in various management roles at QLogic since 1995, was 68.
"This is a terrible loss for me personally and for all of us here at QLogic," Chief Executive Prasad Rampall said in a statement. "HK dedicated most of his working life to building QLogic into the company it is today. His positive spirit, enthusiasm and commitment will be greatly missed by all of us who had the honor of working with HK. While HK was extraordinarily passionate about his work, his greatest pride was his family and our thoughts are with them at this time. We will miss HK dearly."
Desai joined QLogic as interim chief executive, president and chief technical officer. He took the chief executive's job on a permanent basis in 1996 and became board chairman in 1999.
That same year, he was named American Electronics Association's executive of the year.
In 2002, he was named a director of the year by the Forum for Corporate Directors.
He remained chief executive until 2010, when he gave up the post to become executive chairman.
Desai carried great influence at QLogic throughout his tenure, handpicking his successors over the years.
In December, industry veteran Prasad Rampalli was named chief executive, replacing Jean Hu, who'd served on an interim basis since May 2013 when she replaced Simon Biddiscombe, who abruptly resigned.
Hu assumed her role as senior vice president and chief financial officer when Rampalli was hired.
QLogic shares were up slightly at the close of trading Monday, with a market value of about $891.1 million.
The company makes switches, adapter cards and other electronics used for data, storage and server networks.