Freedom Confirms Cutback of Long Beach Register
Tuesday, June 3, 2014
Share this article: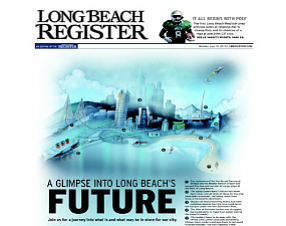 Freedom Communications Holdings Inc. in Santa Ana announced it will shift its Long Beach Register from a standalone newspaper published six days a week to a weekly that it plans to deliver to about 61,000 area households on Sundays.
The change is planned to take effect June 15.
The weekly publication also will be bundled with the Los Angeles Register—which Freedom launched in April—and delivered subscribers in Long Beach on Sundays.
The Los Angeles Register also will begin to feature a daily Long Beach section.
Freedom said it will maintain its news bureau in Long Beach to "ensure it maintains comprehensive coverage of Long Beach, Los Angeles County's second largest city, and its surrounding communities." The company did not say if it plans to make cuts to the staff of approximately a dozen journalists.
The Santa Ana-based media company, which also owns the Orange County Register, started the Long Beach publication in August and purchased the daily Press-Enterprise in Riverside for $27.3 million in November. The purchase was shortly followed by layoffs of 74 from its newsrooms in Orange County and Riverside.
The owners of the Orange County Register have reached a deal to sell the bulk of the land they own around their Santa Ana headquarters to William Lyon Homes last week, which real estate sources peg the likely purchase price in the $40 million range.