PacSun Exec Leaves Company
Thursday, July 31, 2014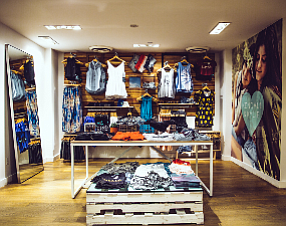 Pacific Sunwear of California Inc. said Christine Lee, its senior vice president of women's merchandising and design, resigned. Brieane Breuer, the company's current vice president of women's design, will temporarily take on Lee's duties.

The Anaheim-based company didn't indicate Lee's plans.
Breuer, prior to joining PacSun in 2007, held various merchandising and design roles at fashion brands such as Valentino and Abercrombie & Fitch.

Gary Schoenfeld, the company's president and chief executive, said in a statement that he appreciates "all of the efforts Christine has put forth over the past four years to help re-position the PacSun business," and that he's "eager to work even more closely with Brie and the rest of our Women's team to successfully tackle our key initiatives."
Those, he said, include increasing the penetration of brands, "which further differentiates us from our competitors in the mall;" leveraging the "vision of our design team" by leading with new trends; strengthening nonapparel business; and driving growth online."
The company also said it expects its second-quarter loss from continuing operations per diluted share to be generally in line with analysts' consensus estimates of negative 3 cents per share. Its previous guidance was in the range of negative 2 cents to 8 cents per share.
Schoenfeld said its same-store sales for men's merchandise improved in June and July and are on track to have a good second quarter.

"Based on the strength of our brand assortment, along with our leadership position with the Men's jogger for back-to-school," he wrote, "we expect Men's to continue its positive momentum as we look ahead to the third quarter."