Edwards' Profit Gain Fueled by Settlement
Wednesday, July 30, 2014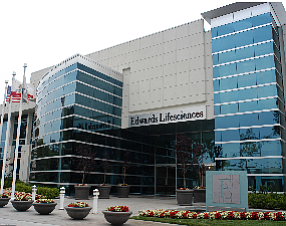 Irvine-based Edwards Lifesciences Corp. today reported second-quarter results that surpassed Wall Street's expectations.
The heart valve maker posted a profit of $547 million, up 486% from the $93.3 million a year ago. Analysts expected Edwards' second-quarter profit to come in at $82.7 million.
The company said the income figure included a special net pretax gain of $747.4 million related to its May settlement of litigation with Minneapolis-based competitor Medtronic Inc. over less-invasive heart valves.
Second-quarter revenue rose 11% to $575.1 million, above Wall Street estimates of $544.3 million.
Edwards also hiked its full-year outlook.
The company could see profit of $348 million to $358.7 million, based on a Business Journal extrapolation.
It said it expects 2014 total sales at the high end of its previously forecast $2.1 billion to $2.3 billion range. Analysts predict Edwards will post $2.2 billion in full-year revenue.
Edwards was up 11.8% to $94.41 and a market cap of $10 billion in midday trading.