Concordia Seeks 92,000 SF Expansion
Wednesday, July 30, 2014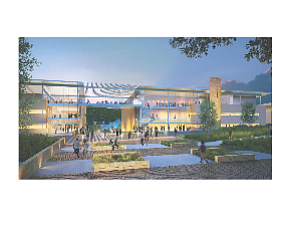 Concordia University in Irvine has asked the city for approval to demolish buildings, construct new ones and add dorms and parking to its campus.
The plans call for 165,000 square feet in new construction and, including demolitions, a net gain of 92,000 square feet of space.
Most of the space has been previously permitted though new buildings would need to be approved, the school said.
Concordia currently has 256 dorm units with 1,024 beds and wants to have 330 dorm units with 1,320 beds.
Currently its buildings total 244,216 square feet and the city has previously approved up to 321,220 square feet, the school said. This plan adds 15,585 square feet to that total.
The plans would replace several older buildings with new classrooms and labs, a performing arts and worship center, and new facilities for science, nursing and healthcare programs.
Concordia also seeks new and upgraded sports facilities including a competition-length pool and more tennis and sand volleyball courts.
The school has won five National Association of Intercollegiate Athletics championships over the last five years, including titles in baseball, men's basketball, women's volleyball, men's volleyball and softball.
It said in early July it would pursue National Collegiate Athletic Association Division II membership and join the Pacific West Conference starting in the 2015-2016 school year.
The plans submitted to the city also alter parking and traffic management including 250 new parking spaces to replace outlying ones, and a new underground parking area.
Concordia said it doesn't anticipate an increase in traffic or the number of students attending the school as a result of the plans.
Associate Vice President of University Services Ronald Van Blarcom said in a statement that Concordia had been meeting with local homeowners since October to develop the plans.
Concordia said approvals could take 10 to 12 months.