Opus Posts Higher Loans, Lower Profit for Q2
Monday, July 28, 2014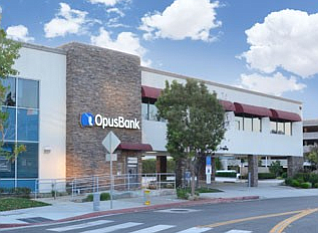 Irvine-based Opus Bank posted $10.3 million in profit in the second quarter, down about 45% from the same period last year.
The decrease in earnings was driven largely by higher income-tax expenses in the recent quarter.
Opus had $37.5 million in net interest income, up about 3% from a year earlier.
Noninterest income, including fees and gains on asset sales, totaled $4.1 million, down about 41% year-over-year.
Opus remains the largest bank with headquarters in Orange County, with about $4.3 billion in assets, versus $3.2 billion a year earlier.
Loan growth helped drive the bank's total assets. Opus had about $339 million in loan originations in the quarter, pushing its total loans to about $3.4 billion as of June 30. That's up about 43% year-over-year.
The value of nonperforming assets fell about 21% to $13 million over the past year.
Opus had $3.2 billion in deposits at the end of the quarter, up about 37%.
The bank debuted on the Nasdaq exchange in April via an initial public offering, notching $80.3 million in net proceeds to stockholders' equity.
Opus stock is about flat Monday morning, at a market capitalization value of about $831 million.