Midday Stock Roundup
Monday, July 28, 2014
Share this article: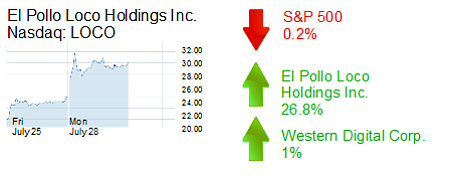 The S&P 500 declined 0.2% to 1,974.78 in midday trading Monday.
The Dow Jones Industrial Average was also down 0.2% 16,936.36, while the Nasdaq was down 0.3% to 4,435.33.
The yield on a 10-year Treasury bond rose 0.7% to 2.49%.
The price of gold was flat at $1,303.40.
RESTAURANTS
Costa Mesa-based El Pollo Loco Holdings Corp. was up another 26.8% to $30.47 and a market cap of $844 million. The stock went public Friday and closed up 60% at $24.03 that day. It has traded above $32 today—more than doubling its IPO price.
TECHNOLOGY
Irvine-based storage products maker Western Digital Corp. was up 1.1% to $100.35 and a market cap of $23.6 billion on estimates that its earnings may be higher this quarter than previously thought. A Zack's Consensus Estimate of $1.74 per share is topped by more recent numbers suggesting $1.81 a share. The company has received generally favorable news on disk drive sales in recent weeks ahead of its earnings report this Wednesday.