Allergan Raises Bar on Raiders With Cost Cuts, Pledge on Profits
Monday, July 28, 2014
Share this article: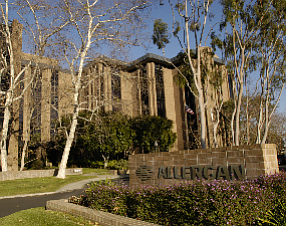 Allergan Inc.'s promise of cost cuts and higher profits might have put the company out of its hostile suitors' reach.
Wall Street analysts helped drive that notion last week as they upgraded their views on the Irvine-based drug maker's value over the near term, putting more distance between Allergan and the bid by Valeant Pharmaceuticals International Inc. and Bill Ackman's Pershing Square Capital Management LP.
How much distance? Valeant's current bid is about $7 billion short of Allegan's potential market capitalization, based on recent analyst projections for where Allergan shares could trade in the next year or so.
That means Valeant would have to put more cash on the table or boost its stock by more than 20% just to get to Wall Street's price target on Allergan.
The boost in price projections by numerous analysts was followed by a modest but steady increase in Allergan shares last week. The upward movement began when the company reported strong second-quarter results and plans to trim its workforce and early-stage programs to save $475 million next year, along with upbeat guidance through 2016, including $10 in earnings per share.
The Business Journal compiled nine price targets for Allergan shares, ranging from $180 to $230 against the current price of about $170. Analysts said their forecasts were based on EPS estimates and on price-to-earnings multiples that are in line with Allergan's historical levels, between 22 and 25.
The average of the nine price targets—$198.22—gives Allergan a potential market capitalization of $59.1 billion in the next year or so.
Valeant's current bid—which calls for $72 and 0.83 of its own shares for each share of Allergan—totaled about $52 billion late last week.
Allergan has consistently called Valeant's offers "grossly inadequate."
Last week's action seemed to justify that view. Indeed, Valeant's bid was just slightly above Allergan's market capitalization of nearly $51 billion as the week drew to an end—not to mention the shortfall when compared to the analysts' projections going forward.
Allergan Chief Executive David Pyott told the Business Journal the company would not "put out numbers on what we personally think is the right value of the company, [as] I think that's inappropriate."
Pyott instead pointed to the numbers presented by analysts, all of which were in line with historical P-E multiples between 22 and 25.
Wall Street throughout the week moved more toward Allergan's contention that Valeant undervalues the company.
Analyst Sean Lavin at BTIG LLC in New York wrote in a recent research note that "a bid north of $200 [per share] is needed" to acquire Allergan, which would bring the overall price to at least $59.6 billion.
It's possible that Valeant could increase the cash portion of its bid for the third time (see chart), though such a move would depend largely on whether it can secure favorable financing.
Valeant's balance sheet as of the end of the first quarter carried about $17 billion in long-term debt and relatively little cash, about $576 million. The company also has built up its income statement by excluding certain costs, calculations that could make its financials look healthier.
Meanwhile, some "disclosure gaps" in Valeant's accounting statements "leave important questions unanswered," according to a recent report by Veritas Investment Research.
The Toronto-based firm said Valeant may be using its acquisitions "to mask the challenges faced by its business," pointing to Valeant's series of buys in recent years and its failure to support asserted returns.
Ackman, who has teamed up with Valeant and owns 9.7% of Allergan shares through his hedge fund, also pointed out earlier this month that Valeant's prospect of getting financing could get harder as time wears on, in light of a changing credit environment and the likelihood of rising interest rates.
The price tag isn't the only concern around the takeover fight.
BTIG's Lavin wrote in his research note that investors are questioning "how we will know if management will keep [its guidance on profitability] if the Valeant proposal vanishes."
Lavin said the firm believes Allergan's management "has routinely met its goals and guidance, and is likely to move the company towards these operational targets."
Allergan has a new incentive plan that's expected to help the company deliver on its promises to shareholders.
It said last week it's linking stock and option grants to its profits to "better align the compensation of Allergan's executive officers and other key employees with the delivery of sustained stockholder value."
Additional increases in stockholder value could come from an acquisition by Allergan or stock buybacks, Pyott said.
It would be the "logical next step" for Allergan to "leverage its balance sheet" for either or both those options, according to a report by New York-based analysts at Wells Fargo Securities LLC.
Allergan had about $2.8 billion in cash and about $2.1 billion in long-term debt as of March 31.
"Allergan has likely reviewed many strategic opportunities in recent months and has a short-list of potential targets large and small," said a report by Wells Fargo Senior Analyst Larry Biegelsen. "We believe that the company may still pursue a share repurchase strategy with available resources after one or more acquisitions."
Some analysts say an acquisition is crucial for Allergan to remain independent.
David Amsellem of Minneapolis-based Piper Jaffray Cos. called Allergan's cost-cutting initiative "a big step in the right direction … but not the only step needed" to fend off Valeant.
"Longer-term sustainability considerations do favor Allergan, but it is near-term considerations … that must be paramount," according to Amsellem's report, which has a neutral rating on Allergan. "We continue to believe that the combination of cuts and consequential, accretive M&A is the only sure-fire path to remaining independent."